Which thread weight with which needle size?
Short rule: the lower the thread weight or number ticker of the thread, the higher the weight thinner the thread.
Needles are sized ranging from 60/8 to 100/16 (for most quilting and thread painting use).
When choosing a needle size, remember that the higher the number the larger the needle shaft and normally the larger the eye of the needle; the lower the number, the smaller the needle shaft and the smaller the eye. Also keep in mind that should you be working with a 60/8 needle that some machines with Threading systems will not thread a needle this small.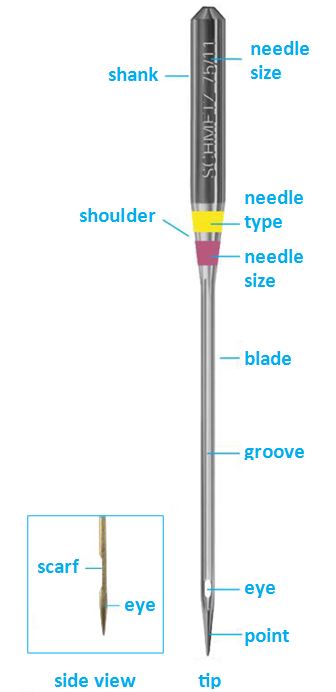 As a rule, pair up the needle you are using with the thread weights below:
60/8 - 100wt silk and polyester Invisible thread
70/10 - 100wt threads
80/12 - 50wt threads
90/14 - 40w threads
100/16 - 30wt threads and thicker
For quilting and thread painting Schmetz Microtex Sharp or Superior Threads Titanium Topstitch needles would be good choices. The Superior Titanium Topstitch needles lasts 5-8 times longer than standard needles.
When quilting, use a heavier thread should you want the thread to show and a lighter weight if you don't. Keep in mind if using a 90/14 needle to quilt with, that the needle might leave a slightly larger hole in the fabric than you would like. So make sure you test the thread and needle on a sample before beginning..
When experiencing shredding, breaking or missing stitches check that you have the right size needle for the thread in use. Make sure you change your needle on a regular basis.
It is also a good idea to use different needles for piecing and top stitching in your machine.
Above silver needle is proper for piecing, below gold needle proper for top stitching.